Retirement Savings/Withdrawal Calculator
| | |
| --- | --- |
| | |
EXAMPLES:
Joe and Sue are going to retire in 5 years. They've been saving for years and will have accumulated $1.2 million dollars by the time they retire. They can earn appoximately 8% per year by investing in the stock and bond markets. Now they want to know how much they can withdraw each year in retirement.
Using the calculator, enter:

Using the example above... Sue says their annual income is about $45,000.00 now. They both think that $59,186.81 is way too much. Maybe they can retire earlier? They'd like to see how much $ they'll need if they retire in 2 years. Here's what to do -

change the years until retirement to 2
leave the Number of Years in Retirement at 35
leave the Annual Interest Rate earned field at 8 (compounded Annually)
leave the Annual Inflation Rate field at 3
change the annual living expense to 45,000
leave the total amount they have field blank.
Press the Total button. It will show they need $834,943.68 when they retire. They'll have that, so all is well!!
Now press the View Schedule button.
In 2 years they'll be able to spend $47,740.50 and that amount will increase each year by 3%. YEAH!!!

So they decide to retire in 2 years.
---
Please support this website by sharing it with your friends and family.
Thank You!
---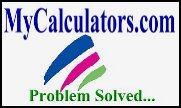 ©
1995-, MyCalculators.com
Disclaimer
Privacy Policy