Weekly Payment Loan Calculator
EXAMPLE:
You're going to give your daughter a loan of $1,000.00. She agreed to pay you an interest rate of 7.75% (compounded weekly) and $20 per week until it's fully paid. How long will she have to pay?
Using this calculator, enter:


1000 = Loan Amount
7.75 = Annual Interest Rate (Compounded Weekly)
20 = Payment
Press the Weeks button and you'll see it will be paid in full in 52 weeks (1 year).
---
Please support this website by sharing it with your friends and family.
Thank You!
---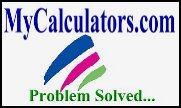 ©
1995-, MyCalculators.com
Disclaimer
Privacy Policy