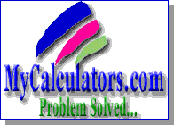 Note:

Contributions are made at the end of the period.

The maximum pre-tax amount that you are allowed to contribute to this plan is capped annually by the IRS. This calculator will not check to see if you are over-contributing! That is a function of your plan administrator. It is more complicated than setting a $17,500.00 (pre-tax), and $5,500.00 (over 50 catch-up contribution) limit on contributions (the limits for 2013). Your plan may have its own (lower) limits - or allow after-tax contributions.
If you're classified as a "Highly Compensated" employee ($115,000 in 2013), contact your plan administrator to see if any additional limits apply to you.
The IRS has also set limits on the total amount you may contribute to your 401(k) from all sources in a given year, including employer match or profit-sharing contributions and any employee after-tax contributions.

Due to rounding, the calculations are approximate and intended to be used only as a guide.
EXAMPLE CALCULATIONS:
What will be the approximate value of your 401(k) in 10 years?
The assumptions:
You currently have $20,000 in your 401(k). Your annual salary is $50,000 and you hope to receive a 3% annual salary increase. You are contributing 6% of your salary to the plan (invested in a mutual fund monthly) and your employer will match your contribution 100% up to a maximum of 6% of your annual salary. They are matching that on an annual basis. The plan has been earning an average of 11% (compounded annually) per year, and you expect that to continue.

Enter:

20000 = Current 401(k) Balance
50,000 = Current Annual Income
3 = Expected Annual Salary Increase
6 = Percent of Salary Withheld for 401(k) (Monthly box checked)
100 and 6 respectively = Employer Match (Annually box checked)
10 = Years to Fund 401(k)
11 = Average Annual Interest Rate Earned (Annually box checked)

Press View Schedule You will have $ 171,725.44 in your 401(k) in 10 years (assuming all variables are met, of course).

---
*After you view the schedule and find out how much you'll save in your 401(k), use one of my Retirement Calculators to see if that alone will be enough.